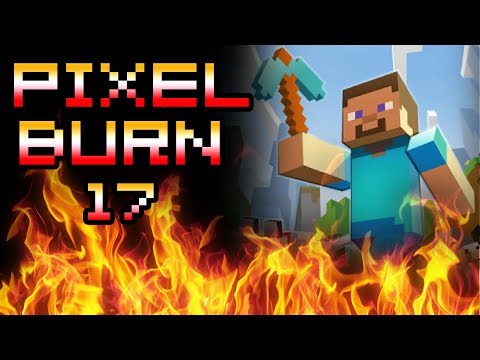 ---
[TRANSCRIPT]
Hello my name's Matt and this is Pixel Burn, where I look at some of the more important, interesting or irritating things that happened in gaming this week. Hopefully without having terrifying flashbacks to my childhood growing up in the shadow of the Cold War.
[LOADING SCREEN: WALKING DEAD SEASON 2 TRAILER]
An appropriate segue from that apocalyptic vision was the news that The Walking Dead season 2, Episode 2 has both a release date and a trailer. A mostly spoiler-free trailer at that, mercifully for people like me who still haven't played episode 1 yet. The trailer is mostly scenes of Clementine being quietly awesome, other characters I don't know being not-so-awesome, and one character being ever so slightly creepy. Hopefully I'll have actually played episode 1 by the time episode 2 is released on March 4th.
[GODS WILL BE WATCHING TRAILER]
On a related note the stark life-or-death decision simulator Gods Will Be Watching, created as an entry for the 26th Ludum Dare (Darr-eh) game jam, has a shiny new trailer for its big bold remake. Described by its developers Deconstructeam as a "point & click thriller", the remake features six chapters of narrative puzzles and moral dillemas, in scenarios ranging from tense hostage situations to brutal, physical interrogations involving scary men with hammers. Which to me sounds like a typical day at work.
You can play the original Ludum Dare prototype at Godswillbewatching.com. Alternatively you can watch me bumble through it in my own playthrough on this very channel (LikeRateShareSubscribe).
[DOTA 2 FOOTAGE]
In other news Dota 2 is getting Fantasy League support in its next update, for the people who like that sort of thing. I could never could get my head around any of that Fantasy sports malarkey myself. It always looked a bit too complicated and nerdy, and I say that as someone who has played Dungeons & Dragons 2nd Edition.
[PIC OF DREAMLEAGUE, MORE DOTA 2 FOOTAGE]
All you need to take part in Fantasy League Dota is buy a ticket from the Dota 2 store for the ASUS ROG DreamLeague Season #1 Tournament. Once you've done that you can start playing Dota 2 without actually playing Dota 2 yourself in a sort of meta-Dota 2 where you win entirely due to other much-better Dota 2 players playing Dota 2 instead. Or something like that. Surprisingly there's not a single digital trinket to be gained from participating in Fantasy Dota 2. No items, outfits, couriers or even Team Fortress 2 hats. Just bragging rights and bugger-all else.
[PICTURE OF BANE FROM DOTA 2]
Oh, and the update will also fix Bane's gammy front legs apparently.
[FREE TO PLAY TRAILER FOOTAGE]
If anything Dota 2 or MOBA-related has you wondering what all the fuss is about then you might want to check out "Free to Play." Valve's upcoming documentary following three of the most-well known pro Dota 2 players on their personal journeys to compete for a $1,000,000 prize in the first Dota 2 International Tournament. The film will be released online on March 18, and available on both the Dota 2 in-game store and Steam, where it will rather appropriately be free to watch.
[MINECRAFT FOOTAGE]
Elsewhere on the internet, Minecraft creator Markus "Notch" Persson confirmed Mohjang is working with Warner Bros on a live-action Minecraft movie. Which explains why the Kickstarter for "Birth of Man," a feature-length Minecraft fan movie from Rocket Jump co-creator Brandon Laatsch, has suddenly been cancelled and the trailer for it taken down.
But anyhow, a big budget Hollywood Minecraft movie. Cue a whole new generation of kids growing up with "magic feather syndrome", thinking they can punch trees down willy-nilly and build sheds in the middle of the road if they just BELIEVE IN THEMSELVES! And not because they've spent long years learning actual carpentry skills and applying for planning permission, like you have to do in THE REAL WORLD.
The chap tipped to produce Minecraft: The Movie Edition as Notch wants to call it, is Roy Lee, producer of the recent Lego Movie. So it might well NOT be a horribly schmalzy sort of affair so saccharine it puts half the audience into diabetic comas. Assuming it even actually gets made, which is never a guarantee in the glitzy two-faced world of Hollywood. If it does then it'll no doubt have a standard Hollywood ending in which Steve lives happily ever, riding a pig around his cobblestone hut. It certainly won't have the only proper ending to a Minecraft movie in which a creeper suddenly appears and destroys everything, to remind children the universe is an indifferent godless void where all things slide inevitably towards entropy and death.
[LOADING SCREEN: THI4F AND THE ISSUE OF REBOOTS]
This week Eidos Montreal's dark gothy-looking reimagining of Thief was released, and for some completely unknown reason I bought myself a copy, despite it seeming like an utter betrayal of everything I loved about the classic Thief trilogy. In the run up to its release I heard with increasing dismay rumours that nuThief had:
[MONTAGE OF PICS AND CLIPS]
No Hammerites.
No Pagans. [CLIP]
No using rope arrows except on certain parts of the environment where the designers allow you to.
No jumping…except on certain parts of the environment where the designers allow you to
No Stephen Russell doing the voice of Garrett.
[STEPHEN RUSSELL-GARRETT SOUNDING AWESOME]
Or any other voices for that matter.
[STEPHEN RUSSELL VOICING BENNY THE GUARD. HE ALSO VOICED KARRAS FROM THIEF 2. STEPHEN RUSSELL IS A MAN OF MANY TALENTS]
No stacking boxes and other physics items to climb up to ludicrous heights or for shits and giggles.
No vast, open levels that give you the freedom to chart your own path through them.
No use whatsoever of the word "taffer" anymore.
[CLIP FROM THIEF 1]
And depressingly, little to none of the original trilogy's humour.
[THE INFAMOUS GUARD ARGUMENT FROM "LIFE OF THE PARTY" IN THIEF 2]
[NUTHIEF CLIP]
It looks nice though.
Fortunately I was able to get nuThief for only £15, a whopping 50% off its full price, and with the exclusive pre-order Bank Heist bonus mission too. You could say…[REPLACE GLASSES WITH SUNGLASSES] it was a steal. [YEAAAAAAAAAAAAAAH!]
[NUTHIEF FOOTAGE AND MONTAGE]
And a good thing too since reviews of it haven't been entirely positive, giving it a current rating of 69 on Metacritic. Not that you should ever rely only on Metacritic for your purchasing decisions. If you do then you're a bit of a div really.
Now I'm not here to debate NuThief's merits or lack-thereof. I'm saving that for a Let's Play commentary, in which I'll probably compare it to Dishonored every two minutes or so. Instead I'm going to focus on an interesting question that emerged from the online scuffle surrounding the game. Should such reboots be judged in the context of their predecessors or purely by their own qualities?
[NUTHIEF FOOTAGE]
NuThief appears to have caused a schism among self-proclaimed Thief fans with a loyal old guard decry it as a treasonous cash-in. On the other side of the divide, determined apologists fight for its right to the Thief name, yet at the same time insisting it be judged as a standalone entity since it's technically a reboot.
A reboot set in the same city and starring the same protagonist, yet heavily implies it's set after the previous three and at one point even namedrops the villain from the first game. When it was first announced back 2009 it even had the working title of Thief 4 [THI4F LOGO IN CORNER], which would suggest to any reasonable person that it's an official sequel. Right?
[DMC FOOTAGE]
There was similar confusion about the most recent Devil May Cry game from Ninja Theory, called simply by its abbreviation, DMC. While officially a reboot of the franchise starring a younger more-sweary Dante without the stupid white hair, it was also promoted as being an origin story for the white-haired swaggering cockface Dante of previous Devil May Cry games.
[XCOM: ENEMY UNKNOWN FOOTAGE]
XCOM: Enemy Unknown on the other hand was marketed as a re-make of the original XCOM: UFO Defense. It shares the same name, many of the same aliens and technologies, utilises turn-based mechanics and is all about saving the world, yet is also clearly it's own thing. And all but the most nipicky of XCOM fans loved it, myself included.
[DEUS EX AND DEUS EX: HUMAN REVOLUTION FOOTAGE]
Meanwhile Deus Ex: Human Revolution was clearly advertised as a chronological prequel to the original Deus Ex. It staked a claim on the same universe and supported that claim with its own internal lore and mechanics, maintaining narrative consistency with the game that came before it. It was also quite good, which is more than can be said for Deus Ex: Invisible War.
So how did Firaxis and Eidos Montreal get away with reinterpreting XCOM and Deus Ex while Ninja Theory and…Eidos Montreal stumbled with Devil May Cry and nuThief?
[DX:HR AND XCOM CLIPS]
DX:HR had many connections to the original Deus Ex but didn't rely on any single one to tell its story. It wasn't about JC Denton or Helios, it was about Adam Jensen fighting a conspiracy in a golden renaissance of technology, long before the plague-riddled totalitarian dark age of the original Deus Ex.
Similarly, XCOM had many links to its predecessors, narratively and mechanically, yet was confident enough to go its own way in some key areas. Both games have their own strong identities and a firm idea of what sort of game they wanted to be.
[DMC FOOTAGE]
DMC on the other hand tried to have the best of both worlds, pushing itself as a reboot while insisting it was also an origin story for the same protagonist from the previous games. It also promoted its combat system as simple enough for beginners to grasp yet deep enough to satisfy Devil May Cry veterans, which didn't appear to be the case.
[NUTHIEF FOOTAGE]
NuThief meanwhile doesn't seem to know it wanted to be, torn between the illustrious history of its name and the demands of modern gaming expectations. I'll pass final judgement once I actually play it, although I'd be a lot less sceptical going in if it had a different name. Like "Nightdude" for example, or "Shadowbloke."
It often feels like the games industry and its audience caught in an awkward Catch-22. The industry side seems almost ashamed of its past at times and eager to embrace a more mature future, yet at the same time is terrified of risk and happy to mine its back catalogue for a quick buck. Similarly gamers themselves wax nostalgic for the good old days and grumble about change, but also say their sick of the same old franchises and want something new.
[XCOM AND DEUS EX FOOTAGE]
Of the handful of games I've mentioned here, the successful ones have been those that give their forebears the respect they deserve while still moving forward in their own direction.
[DISHONORED FOOTAGE]
Such as Dishonored for example, which takes the design philosophy of Thief's original creators, Looking Glass software, and integrates them within the framework of modern game design. Which probably explains why, despite some flaws in its stealth mechanics, it is in my view currently the most faithful spiritual successor to the original Thief trilogy.
That's my tuppence-worth on the subject but I dp also want to hear what you think, believe it or not. So feel free to leave your thoughts on this topic in the comments section below. I can't promise to agree with your comments, but I will answer each and every one I receive.
That's all for this episode of Pixel Burn. If you liked it then please do let me know. At the very least I hope you found it tolerable. If you didn't enjoy it, well, I don't care because I've got an awesome cat.
[FUSSING OVER AWESOME CAT]
[ROLL CREDITS]