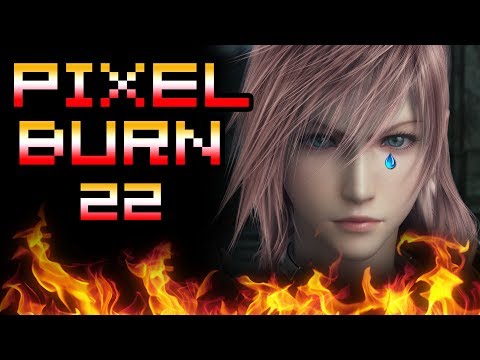 ---
[TRANSCRIPT]
Hello my name's Matt and this is Pixel Burn, where I look at some of the more important, interesting or irritating things that happened in gaming new this week. Which isn't much, admittedly.
First off one of Japan's longest running gaming partnerships came to an end this week, as Sony flogged all of their 9.5 million shares in game developer Square-Enix for around $47 million USD. The shares were sold to a company called SMBC Nikko Securities, a subsidiary of the Sumitomo Mitsui Banking Corporation. Which is Japan's second largest bank and can trace its history all the way back to the Tokugawa Shogunate. Don't say I never teach you anything.
No explicit reason was given for the abrupt sale, though it's undoubtedly the latest in SONY's current efforts to "streamline its business portfolio." Which is wanky business talk for "selling stuff and firing people to save money.
Neither company is going to suddenly keel over dead because of this. It does however mark the separation of two of Japan's historically biggest gaming companies, and ending a partnership that helped sell many Playstation consoles over the years.
This abrupt sale of shares will be a bit of a blow to Square-Enix's otherwise impenetrable corporate ego. It's quite telling that SONY would rather flog shares in one of Japan's biggest developers than let go of its full – and no doubt expensive – ownership of subsidiary developers like Naughty Dog and Media Molecule. If I were in charge of Square-Enix I'd take that as a wakeup call.
But then if I were in charge of Square-Enix I would have never let Motomu Toriyama within five miles of a Final Fantasy title.
In other news rumours have crept online that Ubisoft are working on a new Prince of Persia title, although it won't look anything like this clip from Prince of Persia: The Two Thrones. Nor will it look anything like the 2008 reboot, called simply Prince of Persia, because according to the rumour mill it won't even be 3D.
Instead the new mystery Prince of Persia title will be a throwback to the game's classic 2D rotoscoped roots. Of course it won't look like this either because kids nowadays scream bloody murder if a game doesn't have a squillion fucking lens flares.
In fact according to this French gaming site, whose name I won't even consider failing to pronounce properly, the new Prince of Persia will be using the same engine as…Rayman Legends! Right down to the new titular Prince having individually modelled body-parts that can be animated independently of one another.
This is only a rumour of course so I advise taking it with a pinch, a handful or a bucketload of salt. The timing however is rather intriguing considering Ubisoft found themselves in a bit of steaming hot controversy water this week.
Controversy stemming from a Watch_Dogs preview event Ubisoft recently hosted for games journalists in Paris. Now when when you attend these sorts of events as a journalist you're often given what is called an "asset stick" packed with promotional material for you to use in your articles. Hi-res screenshots, B-roll game footage, that sort of thing. In most cases the asset stick is literally just that: a cheap little memory stick, although sometimes they'll give you a DVD instead.
Ubisoft's PR however decided that instead of giving out cheap little memory stick, they'd give out £200 Nexus 7 tablet PCs. For free. One for every UK games journalist who attended the event
(Dramatic Pause)
Just to clarify, that's a free £200 Nexus 7 tablet PC given to people who'll probably be reviewing Watch_Dogs when it comes out.
(Dramatic Pause)
Just let that sink in for a moment.
Unfortunately for Ubisoft some games journalists actually have integrity, and weren't about to let this sort of thing go unremarked. The shenanigans were first exposed by Steve Hogarty of the website PCGamesN, who didn't attend the event but had heard rumours and so asked around for clarification. Then Edwin Evans-Thirlwell of Official XBOX Magazine came out with a piece confirming what had happened. The tablet was reportedly part of a press bundle that also included a Watch_Dogs branded knapsack, a leather case for the tablet, a bottle of mineral water and a box of Smints.
Official XBOX Magazine are quite rightly giving their free Nexus 7 away to charity, which is very good of them. Edwin did shamelessly admit to both keeping and eating the free Smints however, though that's highly unlikely to affect OXM's final review score for Watch_Dogs.
UbiSoft have since responded to the OXM article with the following statement.
DURING A RECENT WATCH DOGS PREVIEW EVENT, A NUMBER OF UK JOURNALISTS WERE GIVEN GIFT BAGS CONTAINING A TABLET THAT WAS PRELOADED WITH WATCH DOGS VIDEOS, SCREENSHOTS AND RELEVANT LINKS. THIS ISN'T IN LINE WITH OUR POLICIES FOR WORKING WITH JOURNALISTS WHO COVER OUR GAMES, AS WE UNDERSTAND THAT GIFTS OF THIS KIND MIGHT BE MISCONSTRUED. WE APOLOGIZE FOR THE ERROR AND ARE SORRY FOR ANY CONFUSION.
There is also this tweet from Ubisoft UK saying pretty much the same thing.
It's not known how many journalists attended this event but we do know they weren't all from the UK. Word on the grapevine is a number of French journalists also attended and all they got was a free t-shirt. But even if the only journos who got a free tablet were British ones, we still have a situation where a lot of them are keeping very, very quiet about their shiny new Nexus 7s. And if any of them go on to review Watch_Dogs then we end up with a blatant conflict of interest.
If you attended the Watch_Dogs Paris preview event as a journalist, received a free Nexus 7 and are keeping quiet about it, you should be fucking ashamed of yourself. Everything you say and write about videogames from now on is compromised, and you lose any claim to calling yourself a games journalist, or any kind of journalist for that matter, and you don't deserve whatever audience you have.
I could also call you a prostitute, but that would be an insult to good honest sex workers.
Moving on to less-heavy news now, rapper of many names Snoop Dogg, aka Snoop Lion, aka Snoopzilla, aka Big Snoop D-O-Double G, aka Snoop Whatever-He's-Calling-Himself-This-Week, is lending his distinct voice to Call of Duty Ghosts. Specifically for an upcoming multiplayer announcer package.
Going by this trailer for the new pack, Snoop Dogg seems very pleased to become a part of [CLIP: "A game that's so hip and so hood."], although he's so laid back it's rather hard to tell. He also siezed the opportunity to add what he calls "a little bit of Snoop-ism" onto the lines Infinity Ward wrote for him.
If you do decide to "pay the cost to be da boss" and download the vocal stylings of the S-N-Double O-P D-O-Double G, remember to keep a blue flag hanging out your backside. But only on the left side, yeah, that's the crip side.
Oh dear…anyhow, moving swiftly on from that embarassing moment was the news this week that CCP, creators of EVE Online and DUST 514 have cancelled development of their World of Darkness MMO, based on the tabletop roleplaying game series.
As a fan of said games this would have been quite sad for me, but CCP never released anything more than that brief bit of teaser footage I just showed you so….pfft *shrug*
If you've been craving a fix of vampires and vagabonds and this news has left you bereft, pick up a copy of Vampire: The Masquerade Bloodlines and the Unofficial fan patch for it. You won't be disappointed.
[IGN vs AngryJoe Tweetruckus]
Now I'm not normally a person to follow internet gaming drama…he lied, but a recent spat between IGN Reviews Editor Dan Stapledon and YouTube gaming personality Angry Joe piqued my interest this week. The parties involved have since kissed and made up, but it all started when Stapledon accused Joe via Twitter of misrepresenting a quote from IGN's preview of Titanfall as being from its review instead.
The quote in question being that notorious "Believe the Hype" line, which would eventually appear in numerous official promotional materials for Titanfall.
(Dramatic Pause)
You've probably already guessed where I'm going with this but let's soldier on regardless. I've got time to fill.
In Joe's own review of the game he referred to the quote as an example of the ridiculous uncritical hype surrounding Titanfall, and cited average scores of 9/10 across the gaming press as a further example. Stapledon interpreted this as Joe claiming IGN gave Titanfall a 9/10, which they absolutely did not whatsoever. In fact IGN only gave Titanfall 8.9/10.
According to Dan Stapledon that .1 of a decimal makes all the difference between a great game and an amazing one. And woe betide any motherfucker who would DARE to round it up to the nearest full number like any reasonable human being.
Needless to say, none of the parties in this little twitter spat came out looking all that great. In fact you could say it was a Titan-FAIL! HAHAHAHAHAHAHAHAAHgod I'm such a twat. Anyhow I don't have particularly strong feelings about IGN either way and Dan's outburst really hasn't changed that. On the other hand I do enjoy Angry Joe's videos, and I particularly admire the work he puts into them. His is stuff doesn't always click with me however and he could have handled this argument a lot better than he did.
The main thing we can take away from this storm in a Tweet-cup however is the ongoing disparity between previews and reviews in some areas of gaming press. Too often it seems like a preview is almost indistinguishable from the stuff being put out by a publisher's marketing department. To illustrate this…we're going to play a little game.
[THE GARMEZ JURNALIZM QUOTE GAME!]
The rules are simple. I'm going to present to you a selection of IGN quotes about Titanfall, and you have to guess whether they're from the preview or the review. Are you sitting comfortably? Then let's begin.
Here's your first quote.
"YOU WALK, YOU RUN, YOU JUMP, YOU DOUBLE JUMP, YOU WALL RUN. YOU HOP IN YOUR TITAN MECH. YOU DASH IN YOUR TITAN. YOU DO ALL OF THOSE THINGS IN A ROW OR IN VARIOUS COMBINATIONS. THEN YOU'VE GOT YOUR OBJECTIVE. AND DON'T FORGET ABOUT SUMMONING YOUR TITAN ONCE IT'S READY. IT'S A LOT TO PROCESS. IN FACT, IT'S BORDERLINE SENSORY OVERLOAD… "
Was this quote from the review or the preview? You have five seconds to decide.
Answer: It's from the Preview of course! If you're only using games journalism as a stepping stone to a job in Community Management or Marketing, phrases like "Borderline sensory overload" are precisely the sort you need to master.
Quote Nummer Zwei.
"KILLING THE MULTIPLE CLASSES OF UTTERLY BRAINDEAD AI-CONTROLLED MINIONS THAT FILL OUT TITANFALL'S CONFLICTS SHAVES A COUPLE SECONDS OFF OF YOUR TITAN DEPLOYMENT TIMER, WHILE OFFING PILOTS HASTENS IT EVEN MORE."
Answer: It's from IGN's Titanfall Review! Phrases like "braindead AI-controlled minions" are simply too close to actual criticism to belong in a preview.
Quote Numero Tres
"I STILL CATCH MYSELF LOOKING UP TO THE SKY AS I PRESS DOWN ON THE D-PAD TO CALL IT IN, BECAUSE WATCHING MY 20-FOOT-TALL ROBOT EXOSUIT FALL ONTO THE BATTLEFIELD, SEEMINGLY FROM HEAVEN, IS A GLORIOUS SIGHT THAT I STILL SEE REPLAYING WHEN I CLOSE MY EYES AT NIGHT. IT'S A SIGNAL THAT I'M ABOUT TO TRANSITION FROM THE LIBERATING MOBILITY OF A JETPACK-POWERED, WALL-RUNNING SOLDIER (CALLED A PILOT) TO THE EGO-SWELLING WALKING TANK THAT PUNCHES ENEMY PLAYERS MIDAIR AS THEY TRY TO LEAP ON ITS BACK AND SQUASHES AI-CONTROLLED MINIONS WITH HEAVY METAL FEET."
Answer: Review, again! But don't be too hard on yourself if you guessed wrong. This sort of indulgent gushing wank wouldn't be at all out of place in a preview.
Quote Number Four.
"CLEARLY, CALL OF DUTY CO-CREATOR ZAMPELLA HOLDS THE MAGIC FORMULA TO THIS TYPE OF GAME IN HIS HEAD – THE COCA-COLA RECIPE OF FIRST-PERSON SHOOTERS, IF YOU WILL. IT'S VITAL THAT HE SOMEHOW TRANSLATE IT INTO WORDS, WRITE IT DOWN, AND SECURE IT IN A SAFE SOMEWHERE IN CASE (GOD FORBID) ANYTHING EVER HAPPENS TO HIM, BECAUSE WHAT HE DOES TO MULTIPLAYER FPSES IS SOMETHING THE GAMING WORLD SHOULD NEVER LOSE."
Answer: Preview!
And finally, quote numero cinqo
"THIS IS MICROSOFT'S KILLER APP. YOU WILL BUY AN XBOX ONE FOR TITANFALL, AND YOU SHOULD. SURE, YOU'D HAVE A GOOD TIME WITH IT ON PC IF YOU'VE GOT A CAPABLE RIG, BUT YOUR COUCH AND THE XBOX LIVE COMMUNITY WILL BE THE ECOSYSTEM IT'S BEST ENJOYED IN. IT LIKELY WON'T DECIMATE CALL OF DUTY'S MARKET SHARE ANYTIME SOON – PARTICULARLY SINCE IT'S A PLATFORM EXCLUSIVE – BUT ONCE TITANFALL RELEASES THIS SPRING, I GUARANTEE YOU THAT WORD WILL SPREAD AMONGST THE HARDCORE COD COMMUNITY. "HAVE YOU SEEN TITANFALL?" THEY'LL SAY. AND LITTLE BY LITTLE – OR MAYBE IN DROVES, WHO KNOWS? – THEY WILL FLOCK TO TITANFALL, AND THEY WILL NEVER GO BACK."
Answer: Preview again. In fact this is the very same paragraph leading to that infamous "Believe the Hype" tagline used in Titanfall promotional materials. [BELIEVE THE HYPE SCREENSHOT]
Although you may well have lost the ability to tell the difference by now, , in which case my work here is done for now.
[MCCAFFREY TWEET]
Incidentally both review and preview were written by IGN's Executive Editor Ryan Mccaffrey, seen here on twitter fishing for a chance to present Microsoft's E3 conference.
That's all for this episode of Pixel Burn. If you liked it then please do let me know, and let your friends and family know too. At the very least I hope you found it tolerable. If you didn't enjoy it however then you're more than welcome to say so, as long as you don't misquote me. Otherwise I'll have to deduct .1 of a decimal from your final score. Either way you can go now.
[ROLL CREDITS]